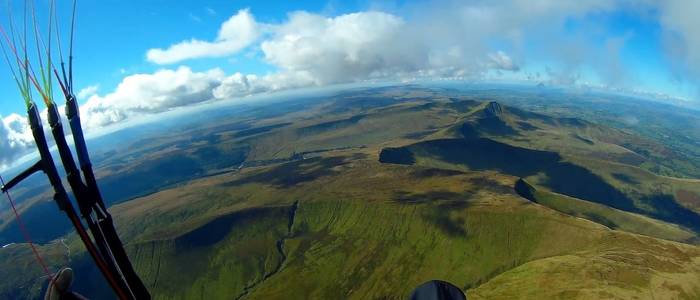 Hang Gliding & Paragliding
Our grassy fields and hilltops serve as excellent take-off and landing sites for paragliders and hang gliders.
Our surrounding area offers some of the best take-off sites and landing sites in the UK for both paragliding and hang gliding. The north-facing escarpments of the Brecon Beacon mountains, overlooking the incredible landscapes of Mid Wales, provide near perfect take-off and landing sites.
Fly over 4 miles high with beautiful views of the Brecon Beacons national park. Take advantage of the perfect take-off and landing sites and travel across the north-facing escarpment and feel adrenaline kick in. Licensed pilots should get in touch with their local clubs to ensure the can fly at any site.
Pilots can glide along hill ridges and see some of the best views of mid-wales from the air.
If you're looking for something a little different to your usual adrenaline fix, how about power kiting? Available in Talgarth or Brecon, a power kite is large enough to lift you off the ground!
Make use of the mid-wales wind and take off. The adventure truly awaits and these adrenaline activities aren't the only way to enjoy the outdoors here. Have a look at more experiences you can have whilst you're visiting on our experience page.
If you want more information on paragliding, hang gliding or power kiting in the beautiful Brecon Beacons you can take a look at the Brecon Beacons National Trust website.