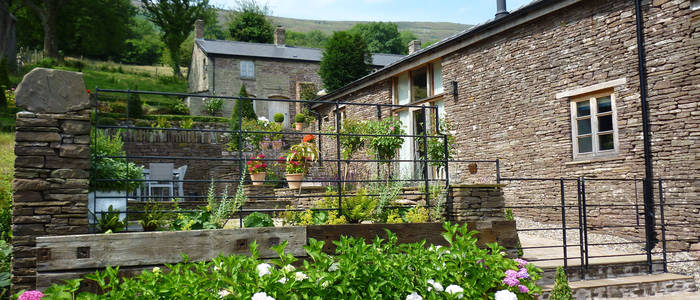 Terraced Gardens
The beautiful terraced gardens around Long Barn and the Farm House are part of the 70 acre holding consisting of fields bordered by ancient hedgerows crossed by old lanes and streams.
Laid out on a steep slope, the multiple terraces supported by dry stone walls give our gardens its special charm. Box hedges and yew cones line the terraces. Numerous types of flowers, plants, herbaceous borders, and rose climbers will delight your senses. Gardening on an exposed hillside provides special challenges. The gardens are therefore a work in progress. New area's are being planted all the time. This spring for example we saw thousands of wild daffodils, planted in winter, flower for the first time. A cutting garden, for your delight, is being created this Spring.

In Spring 2015, we planted 8 acres of woodland indigenous to the Welsh Borders across the estate. In 2016 we have created three walks, marked with different coloured stakes and accompanied by a map. This allowss you to explore the newly planted woodland and let your dog run free in the areas not grazed by sheep.

Outside the estate stretches an area of miles upon miles of unspoiled countryside, partly wild, partly cultivated. This is an ideal setting for a walking holiday.
FLORA AND FAUNA OF THE BLACK MOUNTAINS AND BRECON BEACONS
Wide variety of plants and flowers: hawthorn and cherry blossoms, blue bells, wild garlic flowers and wild orchids, just to mention a few.
Beautiful fauna: buzzards, owls, falcons, soaring high in the sky. Swallows and the rare cuckoos are nesting here in summer. The illusive and rare pine marten has also been spotted!
Water abounds everywhere and the sound of many streams finding their way down to the valley can be heard.
At night, clear unpolluted skies offer an ideal environment for stargazing. This landscape provides exceptional sights in all season.