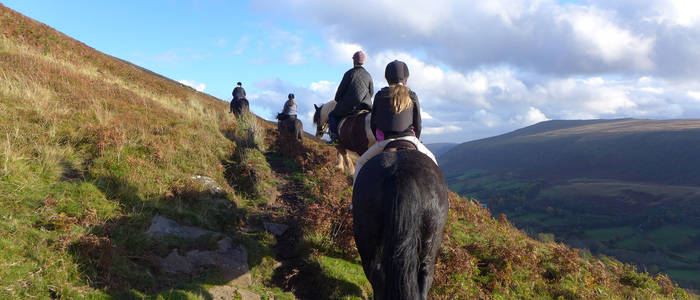 Pony Trekking
Why not come and ride the trails on the Black Mountains and experience some of the very best mountain riding that Wales has to offer.
Pony Trekking is prefect for families, novices and non-riders who want to go horse riding and enjoy the stunning scenery and countryside we are lucky enough to live and work in. Pony trekking is undertaken at a walking pace, and once you have got used to your pony or horse, the occasional trot. Experienced riders are catered for if they want to have a canter or gallop along our grassy ridges. The Griffiths family at Grange Farm is happy to welcome you and find you an equine companion for a shorter or even day ride with pub lunch!

A perfect way to enjoy our beautiful countryside and see the birds and wildlife of the Brecon Beacons National Park.