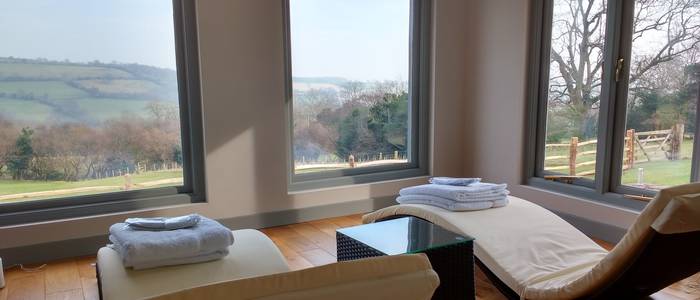 Our New Luxury Sauna and Spa
Come and enjoy our fabulous new luxury spa and sauna facilities opened in October 2016.
Our new sauna facilities offers a chic, contemporary and luxurious environment for a wonderful moment of relaxation at our Hereford spa.

After your sauna, you will be able to rest in a lounger facing the beautiful Monnow Valley either inside or directly on the large terrace.
Open by appointment only.
Tariff for a two-hour session for a couple: £60
Tariff for a two-hour session for a group of up to 4 to guests: £100
This fee includes complimentary towels and slippers, Nespresso coffee, tea, fruits and snacks.
The building offers its separate shower and rest room facilities.
Your a la carte spa
Why don't you treat yourself to a blissful and very healthy spa treatment in the hands of our carefully selected professional experts?
Please contact us if you wish to book any of the following services and we will put you in touch with the relevant professional to schedule your appointment.
We collaborate with the following external therapists:
Sharon Freeland, B.A (Hons), Dip A.E.T Cert. Reflexology.
Hanneke van der Werf, Qualified Yoga Instructor with the Yoga Biomedical Trust, London and with the Sivananda Yoga Centres, India.
Reflexology (with Sharon Freeland)
Reflexology is an ancient therapy, using pressure on reflexes in the feet to release blockages in the body. This treatment is ideal to allow your body to move towards greater balance and harmony. Very effective pain-killer treatment by releasing natural body endorphins.
1 hour, £50
Allergy testing (with Sharon Freeland)
Allergy testing involves looking at the immune system to see why it is over-reacting. The test involves kinesiolog, or muscle testing, Common detected problems are IBS and respiratory problems like hayfever.
1.5 hour, £60 plus remedies (usually between £8 and £12)
Eft/matrix (with sharon freeland)
EFT/Matrix involves tapping on meridian endings as you tune into the problem. This could be physical pain, for example, trauma or phobia.
1 hour, £50; 1.5 hour, £60
Hot stone massage (with emma bevan)Practices in ancient medicine for centuries, heated stone massage is renowned for its healing and relaxing properties. This specialty massage utilizes carefully placed heated stones to rejuvenate your body and soothe your mind. Ideal to relieve stress, insomnia, back pain and poor circulation.
1 hour, £45
Full-body aromatherapy massage (with emma bevan)
This massage uses essential oils to promote health and vitality. Emma will blend a mix of essential oils for your personal needs.
1 hour, £40
Facial cleansing and treatment (with emma bevan)
This treatment includes face mask and massage
1 hour, £40
Personalised yoga (with Hanneke van der werf)
This session will be totally personalised to you. Be it to relax and stretch or to help with back pain, asthma or other physical ailments. Hanneke can also tailor your session to complement your training or re-habilitation programme.
1 hour, £45; 1.5 hour, £65
The new Spa and Sauna has added another layer of luxury, the treatments are so professional you would think you were in a top London beauty spa
Mrs Spillane