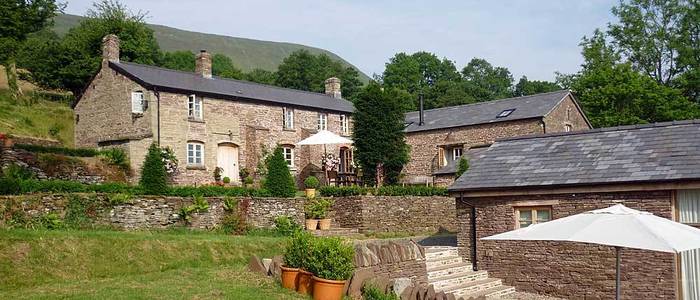 Upper House, Adriaan's Story
Driving through the Llanthony Valley in April 2006, I fell in love with this special part of the world.
Perched high up on The Black Hill, the scenic landmark between Wales and Herefordshire, Upper House Farm is a very special place.

When I bought this 70-acre extraordinary farm in 2006, I wanted to share the privilige of its outstanding beauty with you. Here, there is no traffic noise. You won't hear anything but the sound of streams coming down from the hills, sheep in the nearby fields, buzzards calling and at night the owls hooting.

As an architectural conservator, my passion is to give a new life to old buildings of character. When I first set eyes on Upper House Farm, it was a group of tumbled down stone buildings, patched up with corrugated iron roofs and breeze block lean-to's. First I restored and extended the farm house, as a place to live and enjoy this wonderful landscape. Soon the barns followed, as I had the urge to share this very special place with you.
Fast forward 10 years and we have a wonderful complex of buildings nestled under the Black Hill, or Cat's Back as it is locally known, for me to enjoy and share with you. We have planted acres of woodland for future generations, created walks, preserved an old Welsh Longhouse, cleared ancient drover's roads, created two luxuriously comfortable barn conversions for holiday lets, we have restored an old outdoor toilet, now tool shed, and a stone roofed barn, now wood shed, and created a spa building, including sauna, from a corrugated barn. Terraced gardens have been laid out around the farm house and its surrounding buildings.
Higher up on the hillside, above the drovers road, you will find the most special part of Upper House Farm: a well head with three wells, flanking a Bronze Age burial mound and the remnants of a cottage, said to once have been inhabited by Elsie, the hedgewitch.
As I walk back down the fields to the house, I look forward to sharing Upper House and its overwhelming beauty with you in the very near future,
Adriaan