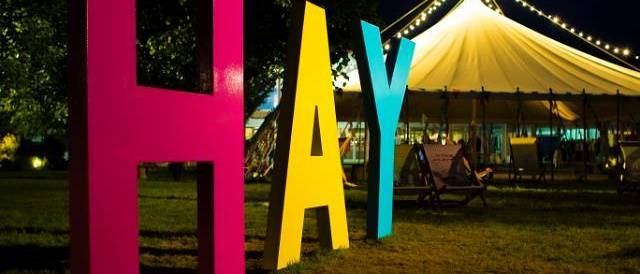 Hay Festival 2019
Hay-on-Wye 23 May - 2 June 2019
Hay Festival, a gathering in the staggering beauty of the Brecon Beacons National Park. Writers, comedians and musicians that have the capacity to change our lives, to share new visions of the world, and to do that incredibly sexy thing – to renew our sense of wonder....

For 29 years Hay Festival has brought together writers from around the world to debate and share stories at its festival in the staggering beauty of the Welsh Borders.
Hay celebrates great writing from poets and scientists, lyricists and comedians, novelists and environmentalists, and the power of great ideas to transform our way of thinking. We believe the exchange of views and meeting of minds that our festivals create inspire revelations personal, political and educational. Hay is, in Bill Clinton's phrase, 'The Woodstock of the mind'.
Hay Festival was founded around a kitchen table in 1987 and continues to attract the most exciting writers, filmmakers, comedians, politicians and musicians to inspire, delight and entertain.
For 10 days in May, Hay is full of stories, ideas, laughter and music.
Upper House and Spa is only 6 miles from the Hay Festival and we have regular taxi services.

More information can be found on the website https://www.hayfestival.com