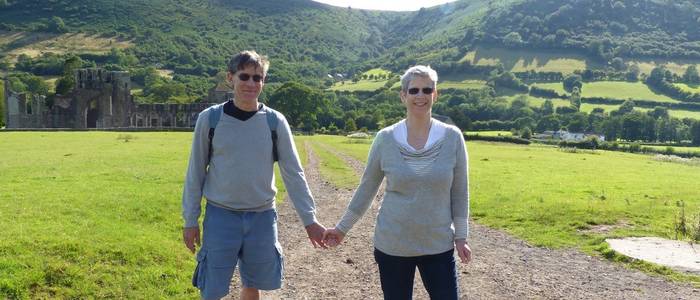 WHAT OUR GUESTS SAY
Discover the reviews that our guests post.
"Fantastic week. We loved the accommodation, walks, superb weather, Bridge Inn, meals from White Haywood Farm and relaxation! Emily was really helpful. Thank you." Robin, Jean & "Scoot" 17 May 2019.
"Thank you so much for a wonderful Easter weekend stay. We had such a lovely time in the beautiful spring sunshine. Selected highlights included: the log burner, beautiful views, peace and quiet, lovely walks on Haybluff and Black Hill. Hayloft Cottage was well equipped and beautifully decorated . We really felt at home during our stay." David and Amy, 22nd April 2019.
"Hayloft Cottage and the location are superb! Beautiful environment and perfect for cleansing your mind and soul!" Andrew, 10th December 2018.
"We had an amazing holiday. Hayloft is such an immaculate cottage with everything you could possibly need for a comfortable stay. We will definitely be back!" Ashley, 16th November 2018.
"We loved Long Barn from the moment we arrived (in glorious weather) as we were struck by the peace and beautiful views. The barn itself is beautifully designed with lots of lovely touches (fresh flowers, cold Prosecco in the fridge, nice toiletries etc). It was very clean with comfortable beds, well equipped kitchen and warm in the evenings with the wood burner. We made the most of the garden on one side for evening drinks and the walled patio on the other for breakfasts. Emily was very helpful, sorting out massages for us in the spa barn and available to answer any questions we had. We loved being able to walk directly from the barn onto Black Hill behind, where the views are even more stunning on a clear day. A great location for walking / biking. We're already planning when we can come back!" Caroline V and friends. 21st May 2018

"My partner and I stayed at the long barn for 4 night in March,we had the most amazing time. The barn itself is utterly beautiful,so tastefully done with incredible attention to detail. We were greeted by the wonderful Emily and when we arrived the log burner was burning,candles on,fresh flowers and fizz chilling in the fridge for us. I am currently pregnant and I felt exceptionally well looked after. We had arranged beauty treatments and afternoon tea on one of the days but unfortunately the heavy snow meant that we could no longer have this. It did not spoil our trip in any way and Emily ensured we had everything we needed. We can recommend the Bridge pub for food,it was so delicious and very big portions. We are already excited to book another trip the long barn with our new arrival, it is such a stunning part of the world." Lucy B. 2nd April 2018.
" We had an amazing time! Long Barn was lovely, comfortable and beautifully clean! Whilst the weather wasn't particularly kind we managed a walk and our yoga was fabulous, we all wanted to bring Hanneke home with us. She is a lovely lady as well as an excellent yoga teacher! We may well book again another time and I have already made recommendations to friends. Thank you very much for facilitating a relaxing and luxurious weekend." Jayne B. 21 November 2017